4DX Software and App-Based Tools
85% of executives do not have or are dissatisfied with the tools around creating visibility and transparency with executing strategies.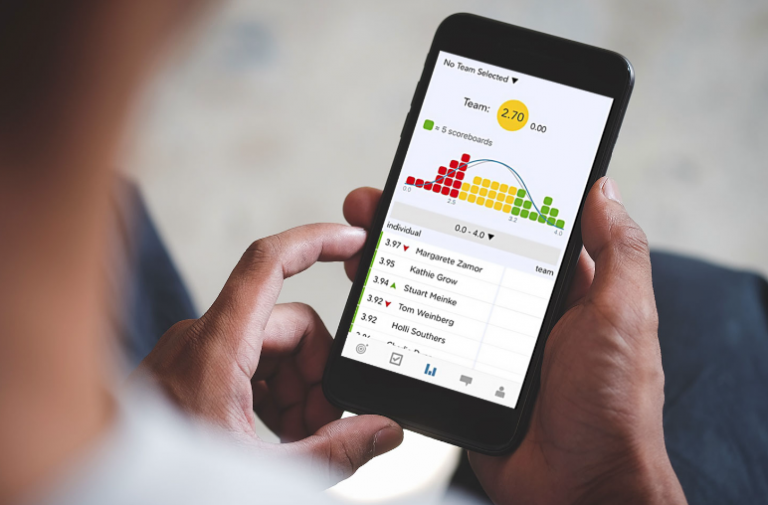 The 4 Disciplines of Execution Operating System (4DX OS) is the ultimate system to effectively implement and manage The 4 Disciplines of Execution for your organization and teams.
Leaders can drive results by applying the 4 Disciplines with their teams, ensuring that they will be able to maintain the process over time.
4DX OS supports and works with other job system applications. Sales teams who use tools like Salesforce also use 4DX OS to help focus on breakthrough results while the other system applications focus on the daily activities. This is an organizational management tool that provides leaders with visibility of their team and organizational goals — and how they are performing against those goals.
Features and Benefits
Ensure overall success in achieving superior results through a cadence of accountability to individuals, teams, and organizations. Within 4DX OS you have the ability to manage scoreboards and details from your desktop or the convenience of your phone. Your organization will have the ability to know where they are in the execution process of attaining your Wildly Important Goals® (WIGs®) — on the go.
By incorporating the 4DX OS software, organizations will also incorporate one of the key elements of the execution system, the Execution Performance Score (XPS). XPS measures an organization's ability to hit their key strategic targets both in terms of results and key activities that lead to those results.
Latest Thinking
Free Guide
Impact Your Organization's Results
Turn Average Employees Into High Performers
Register for an event
Live Events and Keynotes
Explore our selection of free webinars and keynotes hosted by our world-class experts.
Related Products

How to measure the energy and engagement your organization is putting against your key strategic target and how teams are progressing against that breakthrough result.

One of the most significant barriers to superior results in any organization is chronic inconsistency. Learn how you can engage with FranklinCovey to bring focus to your organizational strategy.

Over 4,000 client implementations and a proven track record of case-worthy results in every industry. Learn how to bring the 4DX system into your organization.